The UK food and grocery market is forecast to grow by 14.8% between now and 2023, giving it a value of £218.5bn, according to IGD's newly released market and channel forecasts.
Discount and online to drive growth
Continuing last year's trend, growth is predicted across all major grocery channels, with online and discount set to account for over half of the increase in market value to 2023. IGD anticipates £3 in every £10 of growth over the next five years will come from discounters. The outlook for larger stores has also improved with investments in price, range and the customer experience helping retailers to defend their market share better.
Other key findings of IGD's research include:
Discounters will achieve the biggest cash gain in sales over the next five years (30% of the total) as they benefit from further store openings and format development
Online will remain the fastest growing channel
The convenience channel is forecast to return to a stronger growth trend in 2019
Larger stores remain the most visited channel with 98% of shoppers visiting at least once in the last month, followed by convenience stores (89% of shoppers). 88% of shoppers use both channels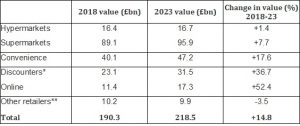 *'Discounters' includes all sales of Aldi and Lidl, and grocery-only sales of principal variety discounters, including Wilko
** 'Other retailers' includes specialist food and drink retailers, CTNs (confectionery, tobacco and news), food sales from mainly non-food retailers and street markets
Discount will make the biggest contribution to cash growth: +£8.5bn
Discount channel growth will be driven by rapid physical expansion, with like-for-like growth supported by upgrades to existing stores. While discount growth will slow, it will still be the fastest growing channel in cash terms over the next five years. Physical expansions will continue to drive channel growth as retailers establish stores in new areas that offer a much more supermarket-like experience to shoppers. High quality store interiors, better customer facilities and enhancements to core categories and are set to build customer engagement across a broader range of categories.
Online will be the fastest growing channel: (+52% over the next five years)
Smaller and more recent channel entrants will drive growth as they scale up their operations and target emerging shopper needs. More established players will step up their use of web analytics to improve and personalise shoppers' online experience. Indeed, two-thirds (61%) of online grocery shoppers say they would like it if online retailers personalised special offers based on what they buy regularly. More rapid and flexible fulfilment options will boost growth, such as click and collect services from more convenient locations such as local c-stores, places of work and unattended lockers. 34% of online grocery shoppers show an in interest in these services.
Improving prospects in convenience: (+18% over the next five years)
Though its market share will only grow modestly, the convenience channel will deliver the second biggest gain in sales as it meets the growing demand for smaller and more frequent shopping trips. IGD has identified younger shoppers and food-to-go as key initiatives coming through for the channel, with 42% of 18-24 convenience shoppers conducting a food-to-go shop on their last visit (vs. 25% of all c-store shoppers).
Supermarkets and hypermarkets will experience growth
Supermarkets are now better at defending their position against discounters as they become easier to shop with a focus on product quality and innovation, offering services and products that discounters don't and by promoting omnichannel strengths. While growth is set to dip in 2019 as food inflation wanes, recovery is expected as improvements to stores help lift volumes and create an appealing in-store experience for family shoppers. Maintaining appeal to shoppers will be a continuing challenge as shoppers migrate to more smaller and easier-to-shop formats and online sales evolve at pace. Underused hypermarket grocery space is expected to be converted for use by concessions and we anticipate this helping to strengthen the destination status of large stores and provide new reasons for shoppers to visit. Combining the grocery space and refining the non-food offer also should make stores easier and faster to shop for smaller basket shoppers.
Source: 05 June 2018: IGD Retail Analysis