"When are you doing another seminar?" If I had £1 for every time I was asked… well the wait is over! We have teamed up with Simply Supply Chain and we'll be taking part in a practical workshop on Wednesday 25th September at Lutterworth.
This is an opportunity to stress test your Brexit plans and to find out how others have overcome the challenges, often to the point where they are starting to see opportunities. I'm not alone, you will be with KraftHeinz, Futura Foods, Mondelez, Kepak, Asahi and other supply chain professionals eager to share their experience and concerns.
Will your plan stand the stress test?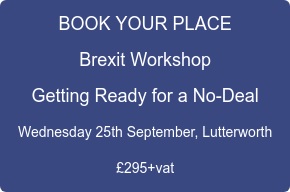 Robert Hardy, Commercial Director, Oakland Invicta