UK have (today) released their MFN import tariff. 2000 duty lines have been removed and many have been reduced or simplified. Measuring codes have been removed and € rates have been converted to £ as appropriate.
The UK MFN tariff will be applied to all imports from 1st January 2021 unless there is a trade deal in place that lowers the rate further (perhaps to nil).
Negotiations with the EU continue and it should be noted that this release of the UK tariff is not intended to favour imports of the type of goods normally coming from the EU. Of course, should a trade deal be agreed, you can expect the duty rates to be reduced (for goods coming from EU), perhaps to nil in most cases. In the absence of a trade deal, the UK, according to WTO rules, must apply their MFN tariff.
We have created a user-friendly look-up tool and explainer below: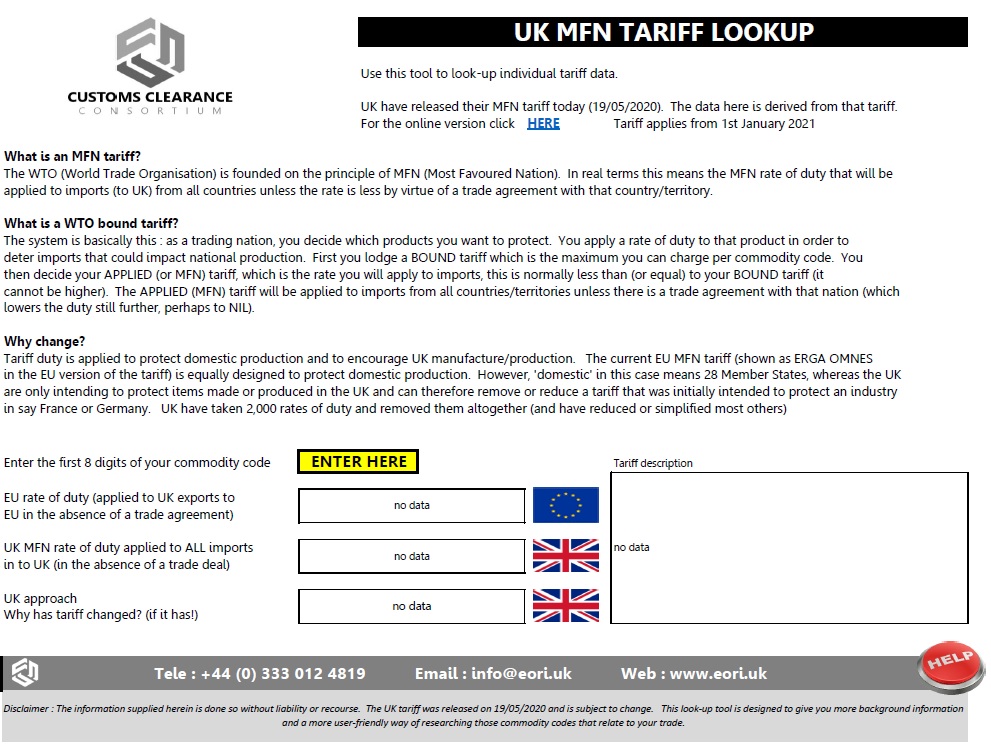 Three other items we would like to repeat (previously mentioned in update no.13) as they need to be acted on NOW! (unless you have already done so, in which case THANK YOU)

DATA DATA AND MORE DATA…
Customs and border processes are pretty well defined and, believe it or not, follow a logical pattern. The real skill comes in the management and sequencing of these processes so that delays can be minimised or avoided.
We have made significant progress in our RPA (Robotic Process Automation) trials and are now entering the robot build phase. Master data is essential otherwise trucks could be delayed whilst header information is created so that item (transaction) data can be entered. There is no need to wait for this step in the process. It should be done now and tested now. We have created an online process for this vital data capture and would urge you to allocate time to complete it. Click HERE. You would be amazed how much of the process can be completed from this data or how prepared you can become in under an hour!
WHO IS THE HAULIER?
Brexit border processes are mostly electronic and rely on the MRN (Movement Reference Number) being in the right place at the right time. At some ports this means the driver having the MRN's to hand. In many cases we will be working directly with the exporter or importer and will not always have the contact details of the haulier, particularly if the load is sub-contracted. We can easily envisage a situation where we have generated the MRN but do not know who the haulier is, or where to send it (particularly outside of normal office hours). As usual, having identified a potential problem we have built a solution. Register your truck and trailer numbers with us and we will pass border information to you whenever one of your vehicles is involved. Click HERE to access the register or pass this link to your transport providers and ask them to register.
BRUNCH
We are holding a series of BRUNCH events (Brexit lunch). Now that virtual meetings have become part of our working life (and social life for that matter), we have decided to schedule a series of open meetings where we will delve in to various critical aspects of Customs and border processes. The first one is scheduled for Thursday 28th May (12:30 to 13:30 UK time). We hope to see you there!
Robert Hardy, Commercial Director, Oakland International/Oakland Invicta