"EXCELLENT", "INFORMATIVE", "GREAT", "GOOD USE OF MY LUNCH BREAK!"
Just some of the lovely comments we got from the first BRUNCH event held on Thursday 28th May. It was a nerve wracking first attempt at this format but massively grateful to those that came along. We peaked at over 200 attendees at one point, so we must be doing something right.
Something we definitely did wrong was not recording it (oops!). This is not a scripted event as we feel it is better to go with the flow and zoom in on certain areas according to the comments received.
We also had a lot of messages from those that could not attend for one reason or another so we've decided to run it again…but with a few tweaks. We will go in to even more detail on incoterms and the 'dangers' of DDP/ex works and will include a step-by-step walk-through of an export to import to delivery process (including transit).
To receive the invite please email me: robert.hardy@eori.uk and then feel free to forward it to others in your team if you feel it could be beneficial.
We also have some homework (!) for you…
1. Explainer video on DDP : https://youtu.be/xu1SqYZOwN0
2. Brexit on a page (if double-sided!). Our Brexit matrix explains what each element is, what it is likely to cost and which ones you need depending on the route…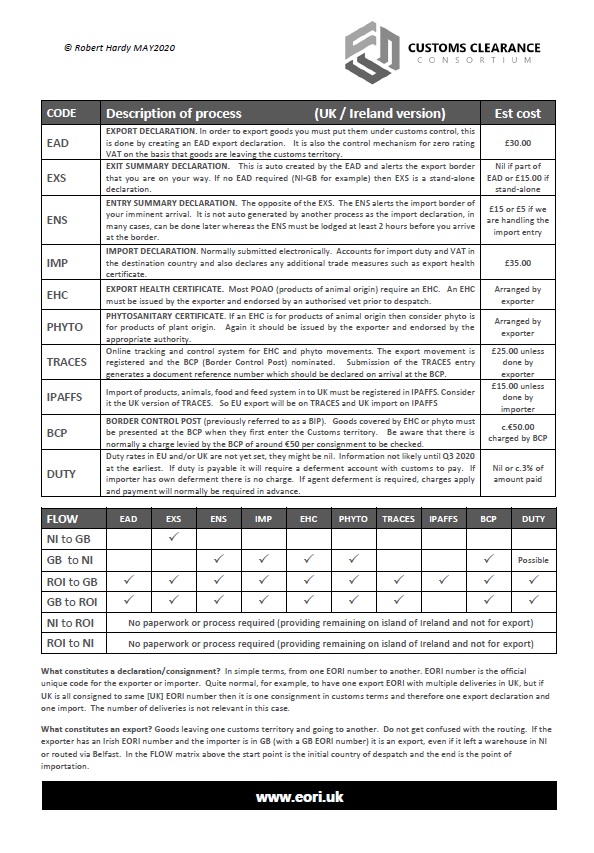 3. CCC user guide – a definitive guide to Brexit preparations and how to interact with the Customs Clearance Consortium – for a copy email me: robert.hardy@eori.uk
If you have some specific questions you would like us to address, please forward them to us in advance and we will do our best to accommodate.
Hope to see you soon.
PS: Robbie will feature in the revised re-run too!
Robert Hardy, Commercial Director, Oakland International/Oakland Invicta